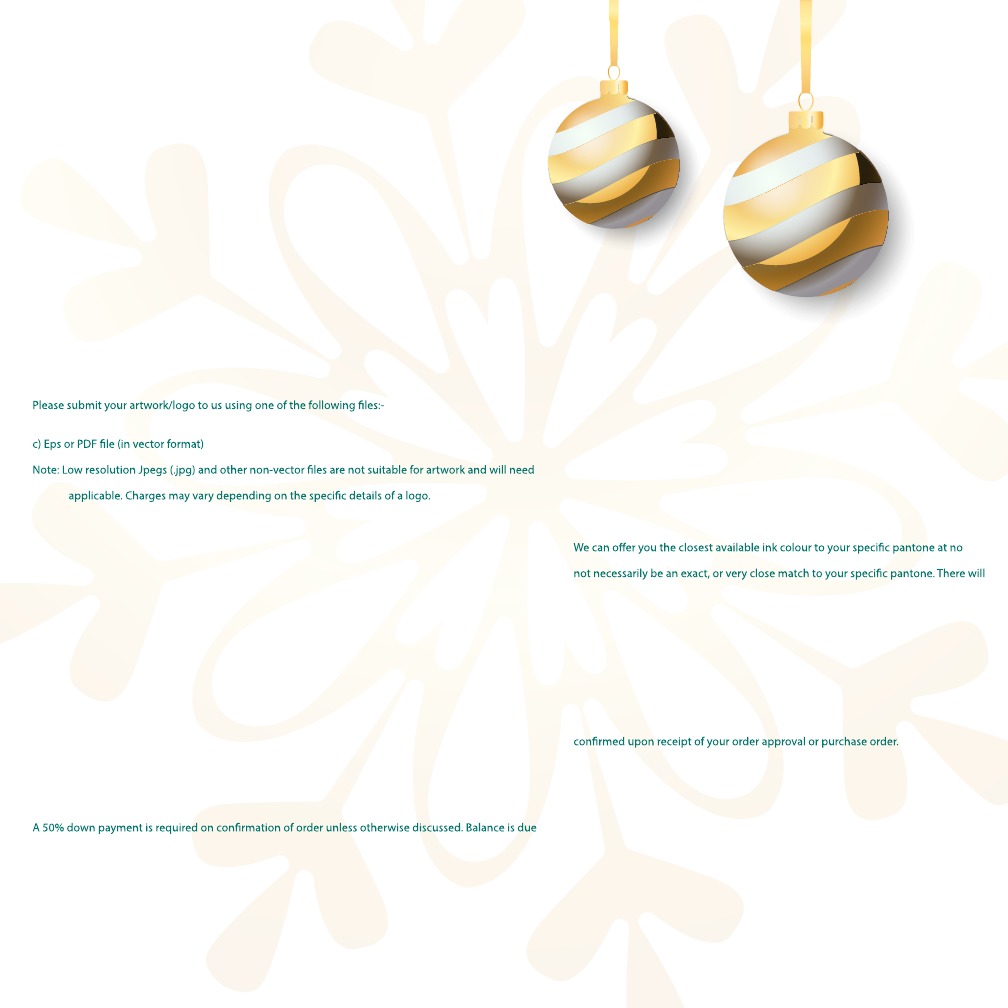 GREETINGS & FONTS
Greeting options are available on pages 4–5. To ensure accuracy and speedy delivery please choose
your greeting and font and provide these details when making your quotation request.
ARTWORK REQUIREMENTS
a) Adobe Illustrator - CS6 or lower (in vector format)
b) Corel Draw (CDR) - 11 or lower (in vector format)
to be re-drawn. Should we need to redraw your artwork a minimum charge of TT $500.00 / US $77.00
We will advise the exact cost to redraw once we view your image.
Artwork can be sent via any of the following media/storage
types:-
(a) E-mail
(b) USB Flash Drive
ADDITIONS
Signatures and names can also be printed at an additional cost of TT $0.12 / US $0.02
per card, plus a set-up charge of TT $30.00 / US $4.60 for one colour printing.
ARTWORK CHANGES
An additional charge
may apply to any artwork changes requested after your initial
approval. Copy changes for greetings will cost TT $15.00 / US $2.30.
PRODUCTION & DELIVERY
TIME
Our standard production and delivery time
is 3 weeks or less after approval of artwork
and receipt of deposit or purchase order unless otherwise stated.
PAYMENT TERMS
upon receipt of goods. Acceptable payment methods are cash, Company
cheque or Wire Transfer.
QUANTITY ORDERING
Prices are based on a minimum quantity of 100 cards in one design.
Orders below this will incur additional charges of up to 20%. Please
check with your Account Executive.
LOGO IMPRINTING
Logos can be printed in ink or foiled. Please advise your Account Executive so the
relevant charges can be provided. Additional costs for full colour printing will be
TT $35.00 / US $5.40 per colour and TT $0.12 / US $0.02 per card.
ENVELOPE
Cards are supplied with foil lined envelopes at no additional cost.
Extra envelopes are available at a price of TT $2.50 /US $0.38.
FINAL DATE
The deadline date for ordering card designs is Friday December 6th 2019.
additional charge. Please note however that our closest available ink colour may
be an additional charge for exact PMS colour matching if required.
Prices include any 1 colour print in 1 location unless otherwise stated. Should you
wish to change the ink colour on a given job, a change of ink colour charge
of TT $130.00 (US $20.00) will apply as print machines have to be shut down
and cleaned in order to run additional print colours.
All quotes will be based on ex-stock – therefore item availability can only be
ADDITIONAL NOTES FOR OUR CARIBBEAN CUSTOMERS
Prices are in US$ and include the cost of shipping to your airport.
VAT is not applicable to export orders.
DISCLAIMERS
Whilst great care has been taken in compiling the information in this catalogue,
Very Exciting Things Ltd. cannot accept responsibility for any errors or exclusions.
Due to the inherent limitations in photography and printing, product colours shown
throughout our catalogue may vary
slightly from the actual product. Products are not
shown at actual size, please pay special attention to the item dimensions stated
below the items.
Product samples are available upon request.
Logo or trademark designs displayed in our catalogue are not
available for sale and do not imply product endorsement.
Important
Information
will be